lenspro_adm
Fully personalized progressive lens that offers the clearest visual fields for all distances
XEVO® 6.8 lens design represents the most sophisticated possibilities of personalization and best optical performance. XEVO® 6.8 is the perfect combination between comfort and visual quality. Its power distribution has been designed to offer the widest and clearest possible visual areas for far vision and near vision as well. XEVO® 6.8 is more than a lens design, it is a fully personalized lens that adapts to each unique individual wearer.
Personalization for easy adaptation and visual comfort
Each lens is individually produced taking into consideration the unique parameters of the face and frame combination. Personalization is especially important for sport frames to reduce the aberrations induced by the tilt position and curvature of the lens.
Personalization parameters
It is essential to include all personalization parameters (described on the right page) unique of each wearer to the prescription data for ordering a XEVO® 6.8.
Engineered as a premium personalized progressive lens
XEVO® 6.8 has been designed with the perfect balanced between the distance and near vision. It is highly recommended for wearers who want a complete personalized progressive lens with unbeatable visual fields at all distances.

Digital Lens
Personalization

Digital Ray-Path®
Balanced Near & Far

Multiple Corridor

Short Corridor Available

Variable Inset

Wrap Available
Cylinder Power Map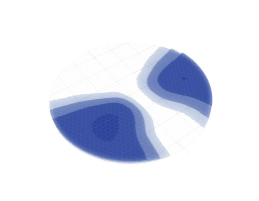 Design Performance